Natural remedies to treat Arthrosis
We are a company founded in 2013 and a global leader in the field of natural treatments, medical care, and remedies for joint diseases. We have developed products to treat arthrosis and arthritis conditions through the research in the dietary supplement industry to complement traditional therapies. These products are made of specific and highly effective active ingredients for joint health, and generally, for reducing inflammation of the muscle and tendon tissues.
We believe in continuous innovation to find new solutions to treat arthrosis and arthritis
Our products are regularly tested and comply to strict quality control

We work to guarantee that our remedies are natural and 100% vegan

Manufactured in Europe and compliant with European Directives on Good Manufacturing Practices (GMP)

All Algosfree products are Non-GMO, with no preservatives and artificial flavours

Continuous innovation to find new solutions against arthrosis and arthritis
OUR PRODUCTS
The dietary supplements and anti-arthrosis creams contain only natural ingredients, which are produced using high-quality extracts at a high concentration. Algosfree has developed the finest dietary supplements, drinks, and creams to treat arthritis and rheumatic disorders based on recent research, published, and peer-reviewed scientific studies.
ANTI ARTHROSIS KIT - 1-month supply
Regular price
Discounted price
€ 132,00
Price per unit
per
Sales
Sold out
The Anti-Arthritis Kit is composed of four products based on natural ingredients of the highest quality and purity. They work synergistically to counteract daily inflammation and symptoms related to osteoarthritis, arthritis and joint disease. As recommended by the doctors of the National Center for Arthritis, it is essential to use the 4 products at the same time for their action to be maximised. The kit includes two supplements; Arthro Wil (Turmeric, Willow and Black Pepper) and Arthro Bos (Boswellia Serrata and Ginger), the Arthro Cap Plus cream (Capsaicin, Ginger and New Zealand Green Mussels extract) and the Arthro-MaC drink (Aloe Vera, Pomegranate and Vitamin C). The result of modern scientific studies, the kit represents the best adjuvant in the therapy of arthrosis, arthritis and rheumatic joint diseases
Visualizza tutti i dettagli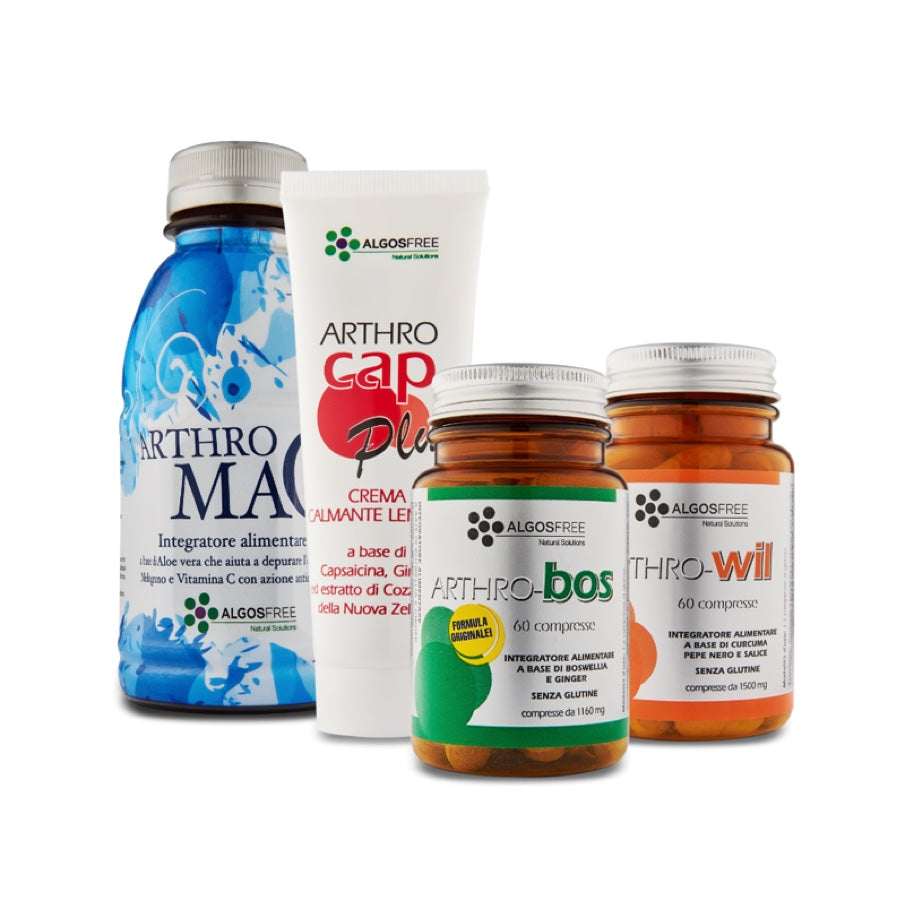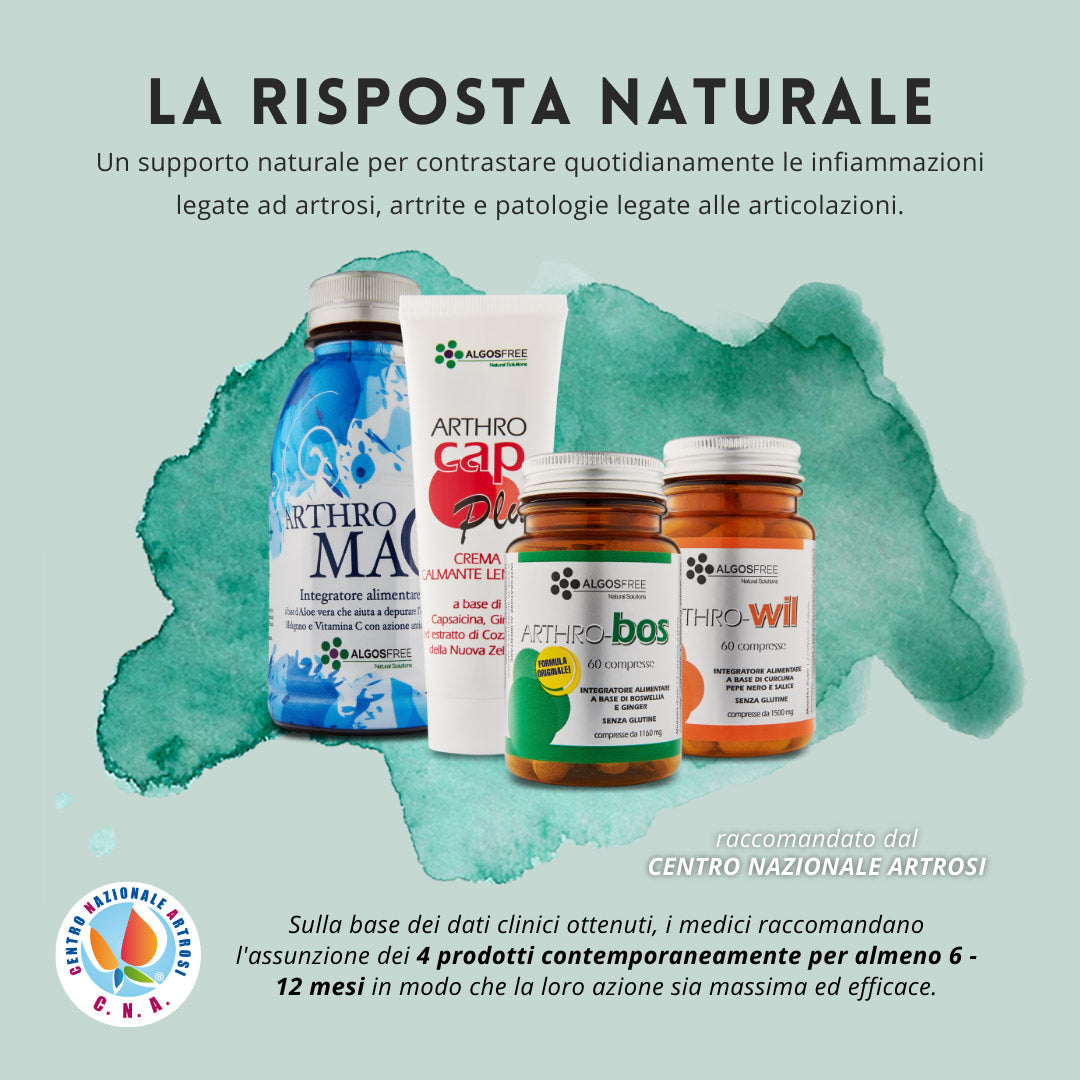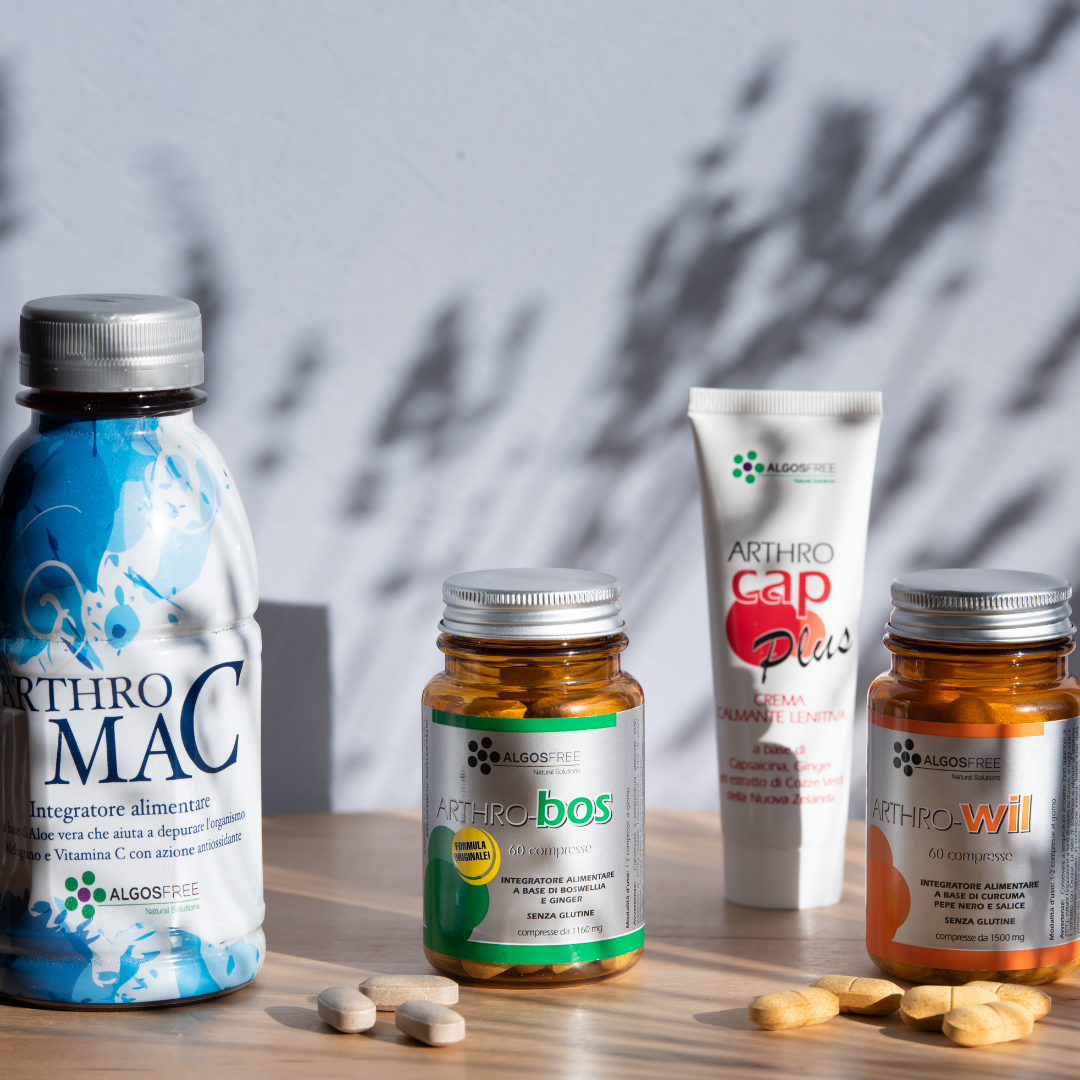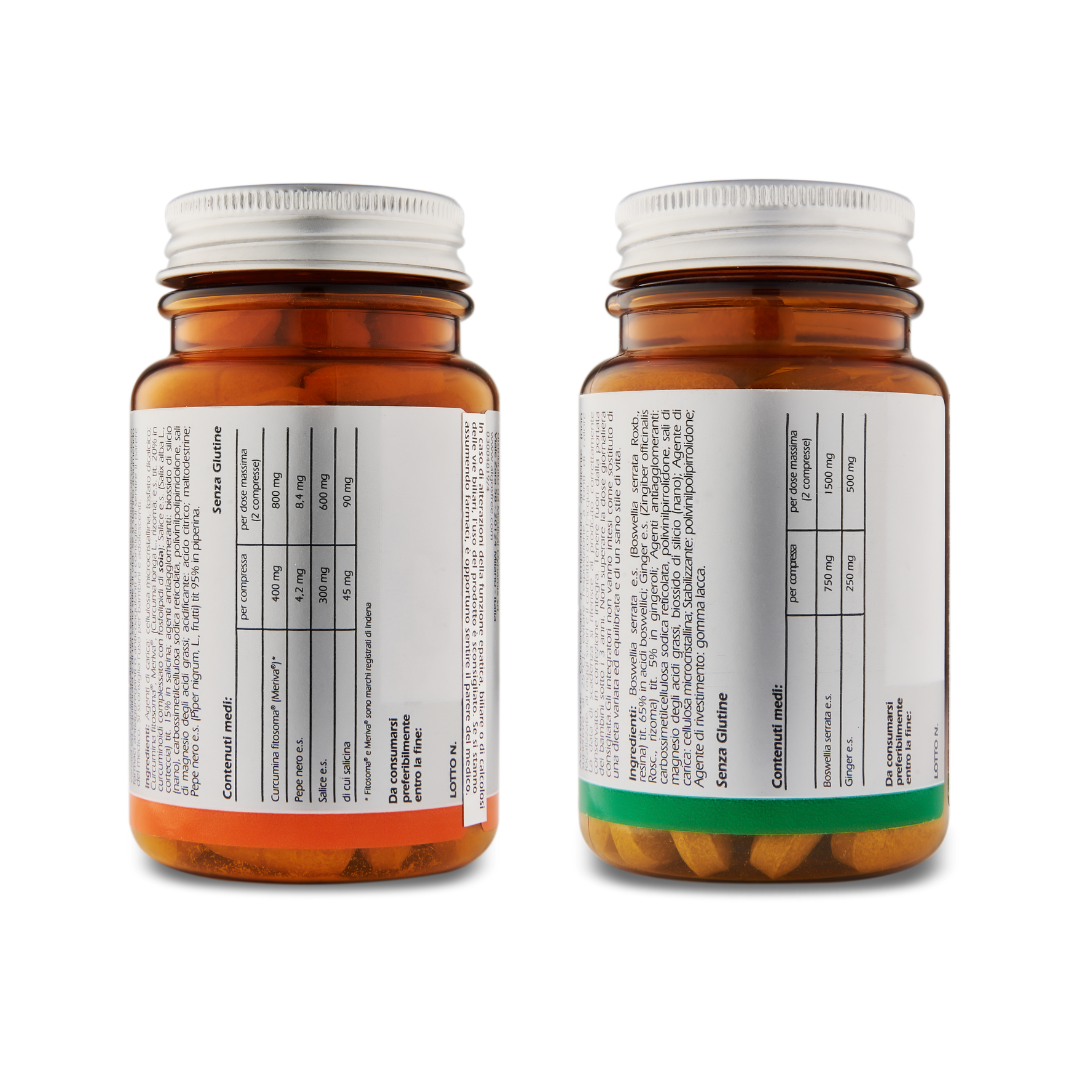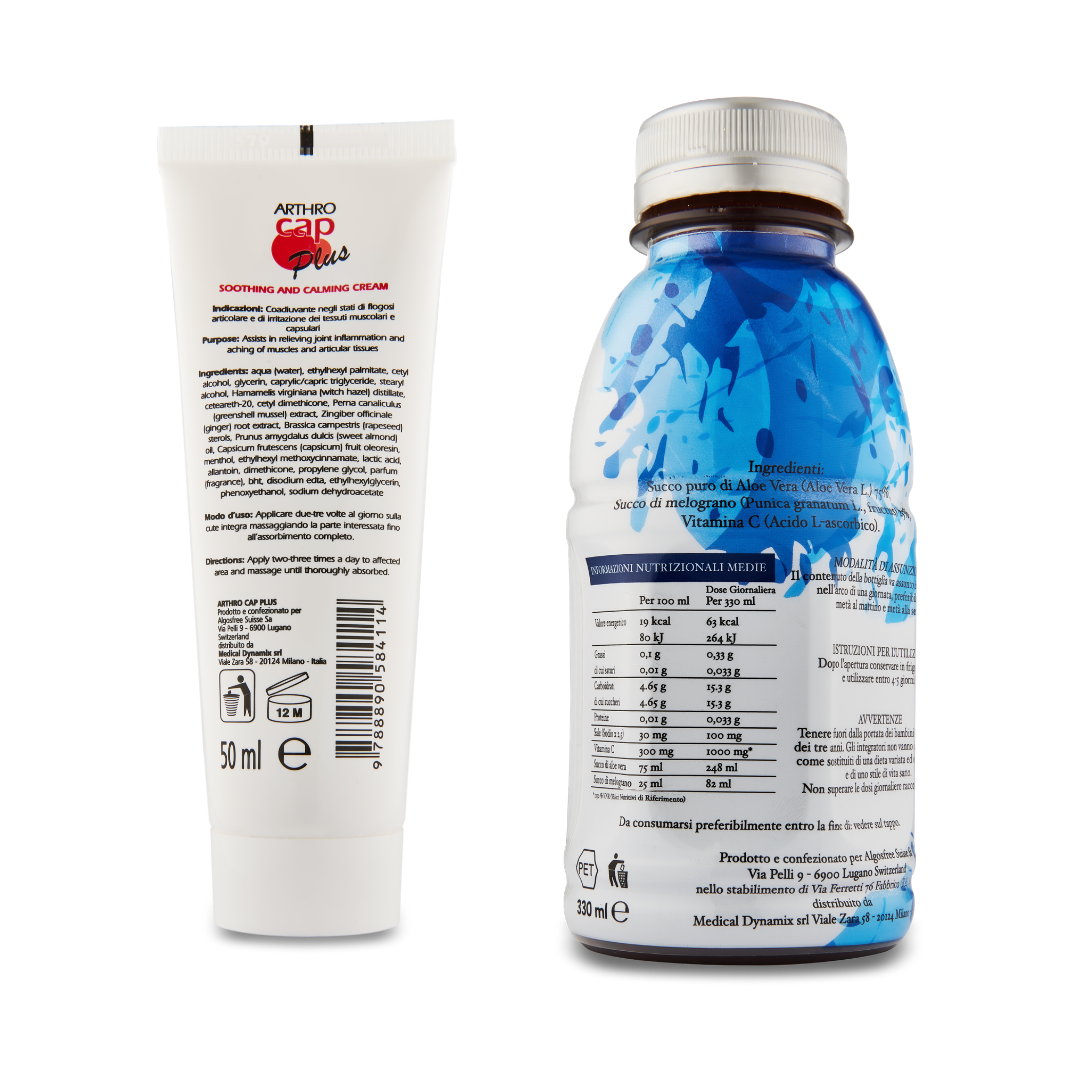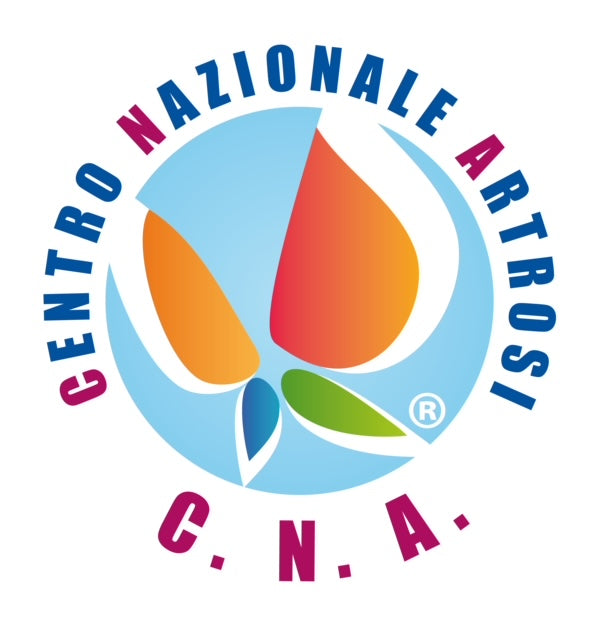 RECOMMENDED BY ARTHROSIS NATIONAL CENTER
Doctors of the National Arthrosis Center recommend administering the four products in the kit together for a minimum period of 6 weeks to 12 months to get the maximum benefits.
Regular price

Discounted price

€ 33,00

Price per unit

per

Regular price

Discounted price

€ 50,00

Price per unit

per
Discover Natur Vista products
What they say about us
Camilla R.

71 years old

"Great and natural products! Absolutely recommend for those with pain!"

Sergio L.

41 years old"I have been using their products for years. Serious and reliable company"

Gemma Z.

61 years old

"Very hesitant initially. After 3 months of diet and kit I am reborn. I recommend giving it a try. I also use the bars, great! my hands and feet have regained mobility...Delighted"

Silvana P.

63 years old"I hope everyone can try Algosfree products and have results like mine"